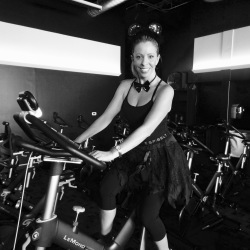 Where are you from? I was born and raised in Long Island, NY. I have lived in the valley since 1991.
What do you love most about teaching at RPM Spin: The thing I LOVE most about teaching at RPM Spin are the incredible riders. Each rider is unique bringing their own style and spirit to the ride resulting in an energetic, fun experience every time.
How do you pump yourself up for class: I get "pumped" by choosing great songs and building custom playlists for every ride.
Favorite song to play while teaching: Boy, that's a tough one. It changes weekly! This week I am having a ball playing "Liquid Spirit - Claptone Remix" by Gregory Porter. However, I do have some personal all time favorites that I love to ride to. They are: "Dream On" by Aerosmith, "Take a Picture" by Filter, "Hall of Fame" by The Script, "Connected" by Stereo MC's and "Here on Earth" ft. Cary Brothers by Tiesto.
Three words to describe your classes: High-energy, rhythmic, and fun.
What can you always find in your gym bag: Clorox wipes and cycling shoes.
How does teaching spin translate into your day to day: Besides being a mom to two teenage boys, teaching indoor cycling classes is my morning/day job. The riders in class ALWAYS make me smile. I genuinely enjoy meeting new people every time I teach. I look forward to seeing familiar faces and making a RPM Spin rider feel good about themselves. This makes my heart full and I always leave work fulfilled.
Life Mantra: Act Justly...Love Mercy...Walk Humbly -Micah 6:8
Most memorable moment/story/client involving RPM: The one story that stands out is how one rider lost a ton of weight by taking class. They looked amazing, rode well, and they felt good about themselves. Stories like these are reasons why I love to teach at RPM Spin.
Starting Spin can be intimidating, what advice would you give to those thinking about coming to a class for the first time: The advice I would give to those thinking about coming to class for this first time is to just do it. Spin classes are one of the best types of workouts you can do for yourself. It is low impact, one of the best calorie burning exercises, and a lot of fun. If you are a new rider it is important to arrive a little early and let the instructor know that it is your first time taking class. Remember to bring plenty of water and be prepared to have a good time. It doesn't matter if you can't keep up with the other riders, or if you sit or stand. If you are sweaty and having fun, then you are doing it right!