Dior Serra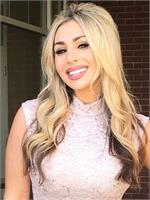 Dior has been in the fitness industry since the young age of four. Her parents owned a gym for 20 years before Dior moved to Scottsdale, Arizona in September of 2016. She is an east coast girl born and raised in Boston, Massachusetts. Dior has a degree in Broadcast Journalism and currently works as an Advertising Specialist. Dior not only believes in an active lifestyle, but also follows a plant-based diet. She became a certified cycle instructor in 2015, and previously taught at a cycle studio in Boston, MA. Dior hopes to bring in some of her east coast vibe along with her passion for music. Her class style ranges from climbs to sprints mixed with some dance movements. Her main goal is to have everyone leave her class feeling accomplished and revived by the end
Dior Serra instructs the following:
A happenin' hybrid mix of both standing and seated riding, while also targeting core and upper body!




A style taught standing and riding to the beat of the music, blending intervals of sprints, jogs, and climbs to target the backside of the body (hamstrings, glutes) and sculpt the front (quad) muscles. A class runners are sure to love! Riders are, of course, free to sit at any time.