Jill Pavlak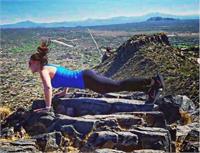 Jill is a Midwestern girl born and raised in Michigan, but has grown to love the AZ desert. She graduated from Grand Valley State University in 2007 with a degree in Exercise and Movement Science. She became a certified personal trainer as well as a certified spin instructor - and the rest is history. She has been a fitness professional and spin instructor ever since graduation. Jill teaches a Hybrid-style class with runs, climbs, intervals, choreography, and TONS of awesome beats to make the hour fly by -- all while revving up your metabolism to keep you on a "high" long after class! Jill plays a little of everything from Rock, Top 40, to RnB, and more. If it's got a killer beat, it's good to go. Have a request? Shoot it over, and you'll be sure to hear it! After all -- it's all about YOU!
Jill Pavlak instructs the following:
A style taught standing and riding to the beat of the music, blending intervals of sprints, jogs, and climbs to target the backside of the body (hamstrings, glutes) and sculpt the front (quad) muscles. A class runners are sure to love! Riders are, of course, free to sit at any time.