Cristin Coleman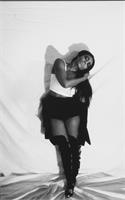 Cristin (aka Criss) is known for her profound dance experience and dedication to the arts. Growing up as an athlete, fitness became a primary passion naturally.
Criss became a fitness instructor in 2004, and shortly thereafter fell in love with cycling. The combination of dance, music, and a bike is the beginning and end of all things fun and motivational for her.
Criss is a marketing manager for OptumCare in Arizona, and is currently finishing up her masters at Grand Canyon University.
Cristin Coleman is currently not instructing any classes.